Summerhill Chef Entwines Food, Family And Memory
For The Community He Serves
All Photos by Jean Kundert
When you talk to Chef Aylmer Given, III you can see he's excited about food; his eyes sparkle, his words are a rapid, passionate river
of culinary ideas. His hands reach and gesture enthusiastically as though the topic is uncontainable in language alone. Aylmer's fascination with food doesn't derive simply because he's built a lifelong career around its preparation. But because he recognizes its power - to nourish and heal the body, to delight the spirit, and to evoke a lifetime of memories.
Aylmer is the Director of Culinary Services at Summerhill Assisted Living, a charming and homey Assisted Living and Memory Care facility in Peterborough, New Hampshire. On its website, Summerhill's tagline reads, "Feels Like Home." For many people, the kitchen is the heart of a home.
Left
- Chef Aylmer preparing food.
Center
- Summerhill Assisted Living.
Right
- Chef Aylmer with a Summerhill resident.
"Food becomes the center of a lot of our family memories," Aylmer says. "Our family times center around food. And it's the same thing here. This is their home." Aylmer sees the residents at Summerhill as family.
"We're their family to support and encourage when family aren't able to be here. We get this relationship - there are 70 residents here and I feel like I have 70 grandparents. There's this personal bond between our residents and staff."
That bond is why Aylmer is happy to have left the high-pressure life as a chef in restaurants and hotels: his role at Summerhill allows him to spend much more time out of the kitchen and with the people he's serving.
Chef Aylmer and Jean Kundert
"I used to own my own restaurant," Aylmer says, "and I loved my customers, but now I love my customers."
"Summerhill Assisted Living is an amazing place to work. We get out of this relationship as
much as we give to our residents and more! It's a bonus to work here and create memorable occasions that enable the residents and their families to feel the comforts of home." Aylmer is very thankful that Summerhill allows he and Jean Kundert, Community Relations Coordinator
to brainstorm and create magical fun filled events.
Food To Evoke Memory
One of Aylmer's goals is to use the experiences he creates around food to help residents stimulate and retain memories.
A regular cuisine-oriented event at Summerhill includes a monthly Chef Chat, when Aylmer meets with the residents to do food prep demonstrations and talk about food concerns, new ideas, and changes they would like to see on the menu.
Then there's Chillin' N' Grillin', an evening meal held outside every Thursday (weather permitting). Residents savor cocktails and appetizers while listening to music or enjoying a performance. This segues into gathering at a harvest table for dinner, reminiscent of a backyard family party.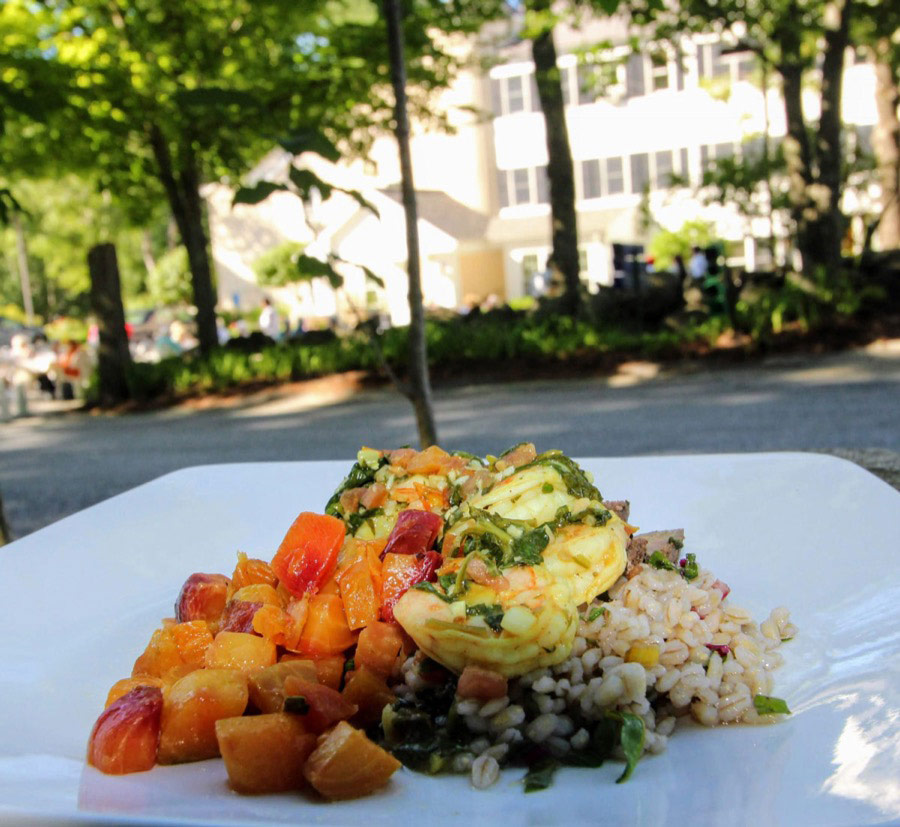 From this favored event, Aylmer and Jean created a winter dining series called Wine 'N Dine. Residents and their families submit treasured recipes for Aylmer and his team to prepare and serve, thus powerfully evoking memorable chapters of the residents' lives.
As part of the evening, "the resident [who submitted the recipe] will tell us about the dish," Aylmer says. The food triggers memories, and then the residents want to talk about them. "Triggering those memories can bring them to a happy place." Often the story behind the recipe is the best part.
Food To Bolster Memory
Another aspect of Aylmer's approach to Summerhill's menus includes research into the types of foods that have been shown to be good for both body and brain. It doesn't hurt that this approach also lends itself to delicious flavors, while using local farm fresh produce and herbs as the season allows, which benefits the local agricultural economy.
"We use fresh vegetables," Aylmer says. "Locally grown is the best. We have fresh fruits, fresh salad greens, avocados and much more," he says, ticking off well-reputed brain superfoods: blueberries, walnuts, coconut and olive oil."
Aylmer writes menus twice a year that then rotate on a three-week cycle. Further, each meal includes entree choices, meaning that the overall menu can be locally sourced with fresh seasonal products and residents have an abundance of choices at mealtimes.
Anthropologist John S. Allen argues in his book The Omnivorous Mind that the brain has evolved to place a high premium on food memories; the hippocampus, which is critical to memory, is linked to the digestive system. This priority relationship between memory and food had direct survival implications. "Our evolved psychology may make food one of the more likely things in the environment around which memories are formed and focused," Allen wrote.
Although Chef Aylmer isn't an evolutionary anthropologist like Allen and is also quick to point out he's a chef, not a nutritionist or doctor, the idea that food and memory are connected is something he's been delving into for almost eight years now at Summerhill.
It doesn't take a doctorate for all of us to see just how large a role great food plays in our lives as it turns the necessary partaking of sustenance into a social, family-building ritual, and helps turn a residence into a home.
For more information about Summerhill Assisted Living, please contact Mary Pat Jackson at 603-924-6238 or visit www.summerhillal.com.